SQL Server Reporting Services Barcode solutions
A few months ago we launched our
Barcode Professional .NET component
for
MS SQL Reporting Services (a.k.a. SSRS)
. Until that time, the only way to deliver barcode images into Reporting Services was using barcode fonts. IMHO Barcode Fonts are a good solution for some client-side scenarios like Windows Forms applications, but not for server-side applications like SSRS. For this reason we began our research over SSRS to see in what way we could integrate our barcode component into it.
SSRS is mainly based-on .NET Framework and our first thought was to develop a custom control for it but apparently SSRS 2000 was not designed to integrate third party controls/components. Thankfully "this limitation" has changed for the next version i.e. SSRS 2005.
But that does not demoralize our dev team and after a few days they found a way to deliver barcode images with SSRS and in that moment Barcode Professional for Reporting Services was born.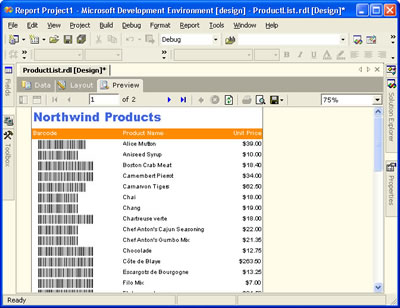 This barcode .NET-based solution allows to our customers to include barcode images into their reports with a lot of features such us Linear and 2D Barcode Symbologies, Image Rotation, Text color, export file format (PDF, Excel, etc) supported, and so on; all features that Barcode Font solution does not offer. We'll continue supporting Reporting Services because it's a great report solution and our dev team is already updating our Barcode component for the next version SSRS 2005. Finally, I'd like to share excellent news (at least for us). All our hard work was rewarded with our inclusion in the
official Microsoft Reporting Services Partners Component website
!!!